(our latest steps): May 5, 2015 through May 11, 2015
May 11, 2015
(our latest steps)

May 11, 2015
Kima enjoying some park time fun in Pennsylvania.
May 10, 2015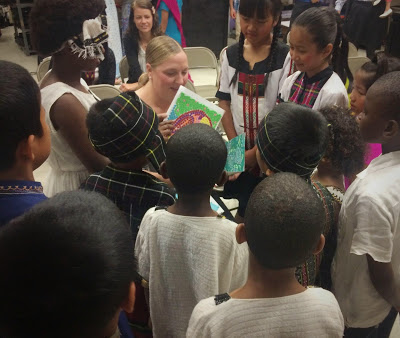 The children all wishing Auntie Christa a Happy Mother's Day!
And Happy 13th Birthday Teyba!
Entering into the Sanctuary on "The Whole Earth"
May 9, 2015
Farm time with Sanga and Duhtea!
May 8, 2015
Miriami feeding a baby cow!
The kids have loved staying in host homes
with all these fun animals!
Donaldson and Carris milking a goat with Auntie Christina!
Carris getting to know all the goat's names on the farm!
May 7, 2015
Some good ole wagon riding in Honey Brook!
Check out a new Compassion International project
"Step into My Shoes"
May 6, 2015
Visiting Letchworth State Park in upstate New York.
Voted America's #1 State Park
Genesee Falls
Rainbows.
And more rainbows.
Uncle Mikey showing the children a picture of the same fountain behind him.
That fountain behind Uncle Mikey froze so heavily in the Winter of 2015 that the ice rose to over 80 feet tall. It made national news.
Kima and Carris hanging out by the pond.
Auntie Zeli, Miriami, Millie, Feli and Lawmi in the spring meadow.
God continues to amaze us with the beauty of his creation!
It's been so fun visiting breath-taking places throughout
the United States!
May 5, 2015
Guess where the team stopped this week?
Niagara Falls!
all your waves and breakers have swept over me."
Psalm 42:7
Getting close up…absolutely breathtaking!
A little wet from the mist of Niagara Falls,
but well worth it to experience God's magnificent creation!
All the girls.
All the boys.
All the Ethiopians.
All the Indians.
All the tour staff.
All the team (except Uncle Mikey…he was taking the picture.)
Lawmi, Helen, Apuii and Saii
Donaldson, Sanga, Mawitea and Yosef
Millie, Uncle Ben and Besu
What amazing memories together!
Happy Birthday Feli!
Singing Happy Birthday with Niagara Falls in the background.
What a special memory and
fun place to celebrate Feli's birthday!
We love you Feli- your smile, joy, laughter
and sweet heart!